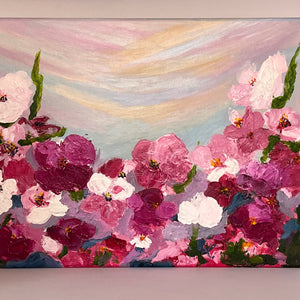 Cherry Pink Blossoms - inspiration from my garden.   From the cherry blossom trees, peonies and daisies.
I Adore colour and cheerfulness - florals can brighten your day but my floral paintings will stay with you forever.  My first ever flowers to bloom in my first home were pink tulips. Always happy memories.  🥰
An Acrylic painting on a 30x40cm (12x16") slim canvas. 
Varnished, fitted with D-rings and wire ready to hang in its new home just as it is.  Certificate of Authentication supplied.
 Perfect gift size.   Light weight for shipping.