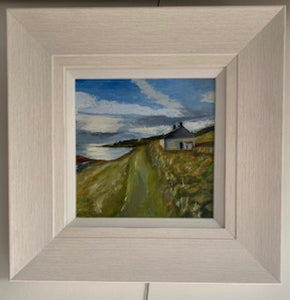 An Original Unique Art Gift - present for a loved one.
This image looked more like a derelict house, but I wanted it to look lived in with the sun falling on the front door, making it enticing.  The ground around it unloved with long grasses, the pathway leading past the front door inviting us in.  


Last one left home.  Immigration.  Hopeful for future 
Inspired by a photo from Fiona Evans of the coastline in Scotland - though I think this could be anywhere.  How many houses are we sitting in looking out the window off these past few months?  Longing for days to end, winter evenings to pass, summer to come, visiting relatives to call, for loved ones living away to get home.  Every family affected.
Acrylic on Stretched canvas, half inch deep
8 x 8 inches   20cm x 20cm  unframed     
Painting is sold framed - total size framed is 32cm .   Photo shows the painting framed.