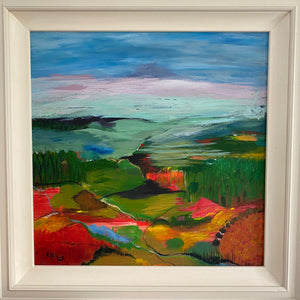 Are you looking for a unique art gift, an original painting inspired from travelling around Donegal over the autumnal rusty orange and green landscape.  Windy roads and bendy river.  The lush land of Ireland  The turning of the seasons from Summer to Autumn.
Acrylic On Canvas Board
40cm x 40cm Unframed
A frame can be arranged to suit the purchaser similar to the photo, from Dealg Design, Frame & Art, Ardee.
PART PAYMENT INSTALMENTS OPTION From Online Purchase 
 2 monthly payments of €105 to be made - to enable payment in full before Christmas delivery.   Product will be shipped or collected after last payment received. 
Please contact me to arrange this payment plan for you.