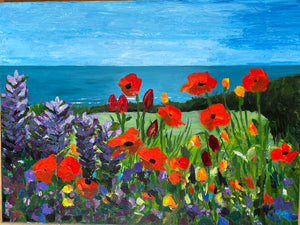 Majestic Purple Delphiniums amid scarlet red Poppies overlooking the sea of the East coast of Ireland.   Little tulips and other blooms taking second place to these two beauties.    A bright colourful artwork ready to hang in your home - in a room where you want to bring a little joy to all who enter.
An Open Edition certified Fine Art Giclee Print from an original artwork - makes for a very special unique Art Gift or heirloom to pass through the generations.  
The Giclee print technique uses specialised archival inks in its application using inkjet printers ensuring the longevity of the print itself.  The colours will hold for a lifetime, certainly over 100 years at least before they start to fade.  Therefore, the quality of this print is much higher than the standard print or photograph.  The accuracy of the print is an identical match to the original painting.  The Hahnemuhle paper used on which to print the image is a specialised paper which will take the ink perfectly - both together give a lifetime guarantee to the quality and longevity of the fine art print.   
Certified printers use only Hahnemuhle Fine Art Paper to print all my Fine Art Giclée Prints.  There is a 1" white border where artist will sign. 
Prints are custom ordered and have approx 2week lead time to arrange delivery to you. 
This Limited Edition print has a maximum run of 50 
Available in one size, identical to the original painting 
 A2 size - 16 x 24"  or 420 x 594mm   
If you require a different size please contact me.