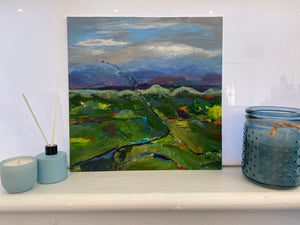 Available either framed only.  
This painting was inspired by my many many journeys home to Co Derry - the long Glenshane Road leading to the Glenshane Pass. 
Many a day on the school bus, praying for snow so it would turn back...  now my travels still involve the slow rise of the road to the top where upon the cluster of trees sits protecting the house within.
When I see this I know I'm home.
Acrylic on canvas board.
30cm x 30cm canvas 
With a white frame