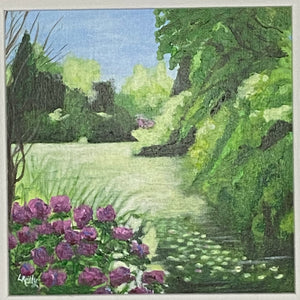 A Unique Art Gift
Original Acrylic Painting - Original artwork inspired by a walk around the stunning gardens at Altamont Gardens, Tullow, Co Carlow.
Fantastic floral gardens, edges, lakes, footbridges and lawns overlooking the house itself.  A truly tranquil place to explore and finish off with a lovely coffee in their covered outdoor seating within the blooms and vines of the gardens themselves. 
This painting depicts the amazing lake within the gardens, surrounded by trees, vines, lily pads and florals reflecting in the little of the water you can see.  Has to be seen to enjoy.  I tried to capture on canvas as best I could the highlight of the day for me so others can enjoy. 
Acrylics on canvas board. 
20cm sq /8" sq.        Framed. 40cm sq /16" sq approx
Available for purchase in The Crafty Rock, Blackrock, Co Louth