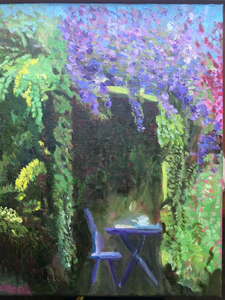 Oils on Canvas,  20x25cm  Unframed Size 
The inspiration for this painting came from my own back garden.  The sun reflecting on the wisteria growing up the side of the arbour made me take out my easel and paints one sunny afternoon.  I so enjoyed painting this and loved the colours of the greenery and purples, lilacs of the wisteria.  The table and chair are where I imagine myself sitting and enjoying the evening sun.
Available for sale..  Allow up to 14Days for delivery.
Money Back Guarantee