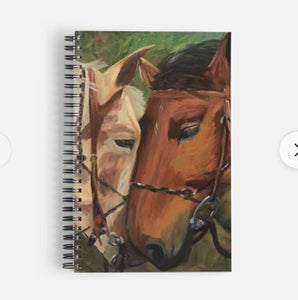 An A5 spiral notebook, lined  80 pages 

Handy size to have on your desk or kitchen counter.  

Special glossy cover designs depicting images of my most favourite paintings.  At the moment there's just three designs to choose from.  

This one is 'Best Friends' - two really great pals who are inseparable when out on hacks with their owners.  

These will make unique gifts or a nice treat to yourself.

Why not grab one now for the equine enthusiast in your family or work place.