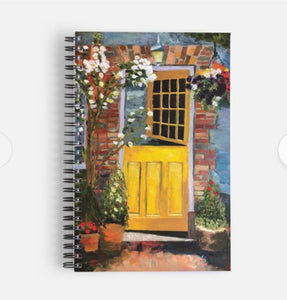 An A5 spiral notebook, lined   
The same image is on the front and back of the notebook.  The inside covers are blank.
Handy size to have on your desk or kitchen counter.  

Special glossy cover designs depicting images of my most favourite paintings.  At the moment there's just three designs to choose from.  

This one is 'Come On In' - a beautiful welcoming yellow half door, too half open suggesting you should come on in and a warm welcome awaits you.    The flower lined entrance framing the doorway of the cottage.   This image warms my heart and makes me think of growing up at times in Ireland, when a door was always left open and the kettle on the stove.  A taste of nostalgia   

A perfect gift for a new home or someone starting a new chapter in their life - who always loves the open door scenario   The opportunities that await us  
These will make unique gifts or a nice treat to yourself.

Why not grab one now for the floral enthusiast in your family or work place.